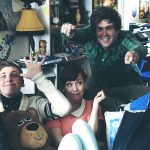 Dear readers, these recent months have been tumultuous, for me and for many of those closest to me. My brief dismissal from – and subsequent reinstatement to – the ranks of the Kensington Chronicle has inspired me to look back on how much my personal and professional life has changed since we first launched the online edition of the Chronicle three years back. With that in mind, I've re-read all of the online editorials that I've written (with the exception of some of my recent pieces that don't really fit that description). And this trip down memory lane has made me come to a startling realization: I had no conscious idea of how much of my life up to this point had been driven by fear.
Fear of failure. Fear of rejection. For a while, even fear of acceptance; specifically, with regards to my sexuality. On that front, we've born witness to incredible milestones, rousing opportunities to declare loudly and proudly that "love won." But my biggest stumbling block in finding a romantic partner has not been my sexuality. While I've been alone for most of my life, and feared on some level that I'd end up that way, a part of me has also been afraid of falling in love in the first place. It's taken me 30 years, give or take, to learn that it truly is better to have loved and lost; that rejections and setbacks are survivable, and are in fact the only way for us to grow as people, the only way to find that person with whom we want to spend the rest of our lives. A proper paring truly does make two people better than the sum of their parts. I've seen it with my parents, George and Mary Darling. I've seen it with Wendy and Peter; Michael and Lily; and now, I think, with John Smee and myself.
John, woefully, has already found himself on the receiving end of my relationship hang-ups, and I am so grateful that he has elected to give me another chance. I realize now that the way I treated him in the aftermath of the Chronicle sale had nothing to do with him and everything to do with me. And I'm happy to report that now that we're over that hump, we've emerged all the stronger for it.
I'm also grateful for my siblings, Wendy and Michael. That sibling relationship can ebb and flow, but I now know that it will never break. As different as we are, they will well and truly always be my best friends. And that knowledge alone is enough to get me through even the most difficult of days.
In the past, I've buried myself in my work, sometimes at the expense of every other aspect of my life. Now, this was in part because I'm a workaholic, and always will be; I'm simply wired that way. But it was also a way of distracting me from the other parts of my life that I found lacking; anything to avoid staring into the abyss of crippling loneliness that my self-imposed isolation was driving me inexorably closer to. But if I've learned anything from my recent brush with unemployment, and my blissful reconciliation with John Smee, it's that being a newspaperman isn't everything. Our jobs don't have to solely define us, any more than our sexuality does. Being assistant editor in chief of the Kensington Chronicle is something I do. But John Darling is who I am.
I once wrote that "Growing up isn't what it used to be." And I do believe that our generation has some obstacles in our path that no prior generation has ever had to deal with, obstacles which at times can seem insurmountable. But I also believe that nothing is truly insurmountable. That we cannot allow fear, or a culture that undervalues us, to disillusion us into inaction. That we must be steadfast in our refusal to let anyone tell us what we can't do, least of all ourselves; life is hard enough without putting roadblocks in our own path to happiness. We have to not get so hung up on finding "the one," but at the same time be open to love when and where we find it. All at the same time striving for balance between all of these different pieces of our lives.
Growing up has never been easy. And it was never meant to be. But I couldn't have asked for a better group of friends and family with whom to muddle through it. And I couldn't have asked for a more tolerant, nurturing, magical place to do it in than Neverland. I love you all, Neverlandians, each and every one; and every day, you find a way to remind me of just how much I am loved. As long as we all continue to fight for that feeling, then Love truly has won. And if people like us have anything to say about it, it always will.