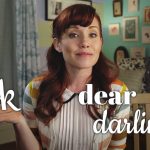 DEAR DARLING,
My best friend recently moved to a new city, and she's having trouble with dating. She's met a few guys, but they're either distant or putting on too much pressure. She needs some advice on how to tell whether guy is actually interested. I've been off the scene for almost fifteen years, so I'm no help. Can you give some pointers?
-LEIGH
HI LEIGH AND FRIEND OF LEIGH!
Congrats on moving to a new city! That's so exciting! With that move comes a lot of new adventures, and one age old one if you're single, DATING! But when you start out on that dating journey how do you know a guy's intention? How do you know if he really likes you or if he just wants to…umm…park his car in your garage? Well, while there is really no sure fire way to tell, here are some tips.
1.) PRESSURE: If the guy is pressuring you to do something you don't want to do…or aren't ready to do then…
2.) DATES: What kind of dates is he taking you on? If the dates are always at night, always one on one, and his main objective seems to be to get you drunk then he probably has only one end game in mind!
3.) TIME: How long have you known this guy? How many dates have you been on? How often is he contacting you before or after dates?  If you guys have been going out for a couple of weeks and the guy seems like he's genuinely putting in the effort to see and talk to you (and not just at night on dates) then you may have found a guy who is genuinely into you!
Bottom line, FRIEND OF LEIGH, if a guy isn't putting in the time and effort to show you he likes you, or is trying to pressure you into something you aren't ready for…then he's not the kind of guy you should waste your time dating, and definitely not the kind you want parking his car anyway!
Till next time My Darlings!