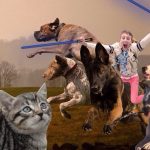 Party Patrol. There was a lot of build-up to Sarah-Jane Lakewood's NYC engagement party this week. After she enlisted security help from Teresa Delacruz and Sheriff Lestrade, the Neverland Fate Stalkers were called to expand their normal matchmaking duties to include public safety. They may be lovers, not fighters, but Neverland stayed quiet except for a few rustling shrubs.
A Michaelstone! Kensington Chronicle's resident advice columnist and vlogger Michael Darling celebrated his 100th episode of Dear Darling this week. His unique blend of heartfelt advice and off-the-wall antics have made for quite a run. Here's hoping he'll have a hundred more great episodes – maybe guest starring his sister and new boss-in-law Wendy!
My Fair Soiree. As expected, Ms. Lakewood's engagement party was quite the event! The guest list included Cecco, Ed Teynte, her roller derby crew, Marvel executives, Chris Pratt and Mermaid Lagoon. Neverlandians in attendance were Wendy Darling, Jas Hook, Sheriff Lestrade, Bri Valdivia, Nanny Ams, and Fish Girl Pond. The surprise of the night was when Special Guest Julie Andrews came out of retirement to sing to the couple.
Editor-in-Grief. If you have been keeping up with the paper through this difficult transition, you may be missing a certain voice. If the Kensington Chronicle is the heart of Neverland, then John Darling is the heart of the Kensington Chronicle. We here at the paper miss his passion and commitment, and look forward to his return! Now back to my absolutely filthy desk…
All My Single Landies! A certain gossip columnist promised to feature sexy singles in her column sometime. Well, carpe date 'em! If you'd like to be mentioned, DM me with a little bio about yourself and what you're looking for in a significant other. Summer's coming to an end, and as that crisp fall weather approaches, we all deserve someone special to cuddle up to.
Trending
#NationalDogDay
Taylor Swift
Feminist Tweet
#CabinTime
President Trump
RIP Wes Craven
#YouNow
Teddy Lupin