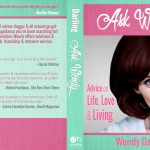 "We accept the love we think we deserve" – Stephen Chbosky, The Perks of Being a Wallflower
The best advice I can give when people ask how to find love is to look inside. It doesn't matter if your profile is 99% compatible, or if you spot them reading your favorite book while drinking your favorite tea. It doesn't matter if the stars aligned and everything is perfect! If you don't love yourself, your heart isn't available to anyone. And your heart knows when you're faking it. It can sense if you're thinking "Fine. I'll love myself just long enough to get a boyfriend, then it's back to criticizing and self hate."
If you're seeking a romantic relationship because you think someone else's love is going to replace what you deny yourself, you, my sweet friends, are in for a painful ride.
Imagine your heart is a baby kitten. What would happen if you waited for someone else to come along and give it food? Your heart-kitten might starve before you even find a partner! Not to mention, if your boyfriend or girlfriend realizes they're the only one taking care of it, they could get tired of seeing the neglect and it might make them want to give up.
So before you can even think about getting into relationships with others, you need to start with a good relationship with you and your heart-kitten. Or heart-puppy if you happen to be allergic.