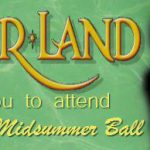 Fatestalkers Unite! Neverland's own guerilla matchmaking group, Fatestalkers, has a new job. Michael Darling, advice vlogger for the Kensington Chronicle, is the one asking for help this time. He likes a girl, codename Dahlia, who is currently dating his friend. Eek, that's awkward! Hope the Fatestalkers can help him untangle that one!
Love is in the air? Recent Southern transplant Eli Traynor was spotted flirting with Mia Rivers at Neverland Books. Sources say he walked out with a copy of "Kissing in America" – I think some kissing in Neverland may be in their future. But sources say Eli tried to ask Mia to the Ball but was given a confused shoulder.  Maybe time for some Sadie Hawkins actions?
Local Success. Neverlandians were excited to learn about the upcoming release of an advice book by Neverland's own Wendy Darling. They were eager to know where and when they could obtain their own copy of "Ask Wendy". Hopefully we'll know more soon! Until then, you can always check out her old column here at the Kensington Chronicle.
Paradise in Trouble. Wesley Parsons and Juliet Carpenter are official – Wules, anyone?  Wes was even spotted down on one knee.  But, is he going to have to leave Neverland because of nightmares and a confusing past?  Will he stay, will Juliet go with him, or will love fall prey to reality once again? Sources say they are going to the Midsummer Ball together.  Hope this is a fairytale moment for this new couple!
Heartbreak in Charleston.  Neverlandians were horrified by the recent murder of 9 members of a historic black church in Charleston. Pemberleigh, Constance Moriarty and others quoted members of the black community. Pemberleigh put it this way, "One thing I can do is listen to people of color. I know I'm just 1 small person but I listen. I care." Our hearts go out to the families of the slain and victims of racism everywhere.
Midsummer Ball!  Neverlandians are coming together for an ocean-themed 2nd Annual Midsummer Ball on July 2nd. The Party Planning Committee of Neverland is in charge of making us dig this shin' and has been given an unlimited budget by local entrepreneur and millionaire Lily Bagha. Mermaid Lagoon and Fish Girl Pond are both slated to perform. Jolly Roger Soda Ship and Skull Rock Candy Shop will also be on hand with as much ice cream and candy as Neverlandians can eat. Should be an amazing party!
Pan goes Neviral. You used to know Peter Pan as the comic book illustrator for the Kensington Chronicle, but now Neverlandians are recognizing a new set of talents in this hometown personality. His most recent episode of Peter Pan's Performance Pieces (also called P4) has swept through town eliciting mostly positive reactions.
Getting the Ball Rolling.  Neverlandians are getting ready to dress up and pair up for the Ball next week. Bri Valdivia, Mia Rivers, and Juliet Carpenter were spotted shopping for dresses. Sources say they found some gorgeous ones! Later while Mia was out shopping again with Amber Poppins where she met her would-be suitor Eli.  It may be worth it to stop by the Ball just to see who ends up going with who!
Trending
New Fifty Shades Book
"Fight Song" by Rachel Platten
Reading
#TheNew10
Charleston Shooting
#BlackLivesMatter
Midsummer Ball