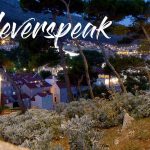 Baby, Baby. In addition to new residents, Neverland will be welcoming even newer faces by the end of this year. If you haven't already heard, Sarah-Jane Mason and her husband Alfie are expecting twins. The word on the street is that Jas Hook himself signed off on their future monikers, Ava and Aidan. Make those connections early! This crafty columnist also got an exclusive with Mia Traynor who just announced that she and her hubby Eli are expecting as well. Both future mother and father are looking forward about their impending parenthood. Mia admits to some trepidation, but assures us that Eli is ready to go. "He is excited to teach his progeny his cowboy ways," a glowing Mia giggled. Congrats on the great news, cute couples! Better you than me.
Whatever Lola Wants… While some couples are coming closer together, others may be falling apart. Multiple sources have reported seeing Wesley Parsons horseback-riding with blonde beauty Lola Williams at her new riding school, Sunny & Lola's. According to one concerned observer, "Lola, as she calls herself, offers riding lessons, but she's very hands-on." Apparently, Mr. Parsons has been less than honest with his girlfriend Juliet Carpenter about these meetings. A word of caution to both parties, in a town as small as Neverland, you can never keep a secret for long.
Light 'Em Up. Michael Darling led a tour of the Garden of Light for interested Neverlandians this week. While tours are usually populated by, well, tour-ists, it was great to see the locals really appreciating one of our proudest treasures. Teresa Delacruz loved being in the Garden so much that she made it the location of her Halloween wedding to Neal. The Gardens are always exquisite, but recent developments have made them even more spectacular. Droves of fairies have been showing up in Neverland and taking up residence in the park. This is unusual at this time of year given that it is not December and we aren't all singing showtunes. (Ask Sarah Lightly more about Fairy Songification if you are new to Neverand…)
Making Magic. The Neverland fire department has had their fair share of cats in trees, but they probably haven't had a call quite like this one. According to her mother, Lilly-Jane Wentworth accidentally turned her favorite teddy bear into a real live feline. Though she's only just turned two, the littlest member of our favorite fairy family can already fly and is "startlingly good at anything magic she tries." Jo isn't quite sure if the bear will remain a cat or not. With husband Freddie Wentworth in Europe helping fairy refugees and her own commitment to med school, Jo has certainly got her hands full. If the magic can't be reversed, this bear-turned-cat may be in need of a new home!
Window to the Soul. If you haven't already joined, there is a new dating app in town. JHMedia and the K-Chron have teamed up to release Open Window. For now, the website will be locals only, but knowing JHMedia, it will soon be worldwide. While competitor Tinder sends your swipes into oblivion, Open Window actually keeps track of how many Neverlandians have opened your window (and how many haven't.) "It's the worst kind of popularity contest," said one disgruntled single. But others don't seem to be bothered by the game. A grinning Jane Mannering admitted that she's kind of obsessed with the app. "It's almost as addicting as these chocolate covered gummy bears!" Just make sure to note what your looking for, so you don't end up on a date that's not a date, or a hangout that is!
Trending
Mary Poppins Returns
#GardenofLight
Spring Fling
Hockey
Anastasia the Musical
Ace/aro
Raphael
#AskWendyLive
Best Tweet Ever
Teresa Delacruz @neverlandslayer Mar 3
More
"Dear @Lin_Manuel, do not throw away your shot! Please come to Neverland. Your obedient servant."