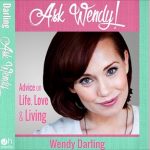 Neverspear In Love. This is why we love being Neverlandians! Everyone in town turned out to support Peter Pan in his artistic pursuit this past Thursday. Auditions took place on Wednesday, and with only a day's notice actors took the stage the next night. John Darling, Michael Darling, G. Harrison Lestrade, Teresa Delacruz and Rowan O'Connor joined the cast along with Mr. Pan while Elsa Fairy, Lorelie Williams, Fish Girl Pond and yours truly helped bring the production together. Everyone celebrated a job well done with a toast at the Jolly Roger after the show.
Book It! In case you haven't heard, Neverland's own Wendy Darling is starting her book tour here in town at Neverland Books this Saturday at 1:30PM EST. So grab some brunch and come get in line for your very own signed copy of her book Ask Wendy! Advice on Life, Love & Living. If you can't wait until Saturday, check out excerpts from the book at jhmediaworld.com.
Horse Play. Apparently, horses are the new black. This week saw two surprising horse cameos. After Mia decided to stay in Neverland, we all thought things had calmed down for the book store maven. That is until Eli Traynor rode up to her front door on a noble steed and made the maven into a maiden. In Panlet, the Ghost of Pancules played by G. Harrison Lestrade rode in on a horse as well. This mount was provided by Lorelie Williams who generously stayed behind to help shovel manure after the show.
Partners in Crime. It seems an unlikely duo has formed in the fight against crime. Barely a week into taking the position of Deputy Sheriff of Neverland, G. Harrison Lestrade has unofficially teamed up with Cleveland-based Slayer Teresa Delacruz to take on the forces of evil. Mr. Lestrade has been making quick work of the petty criminals in town, but has turned to the supernatural expertise of Ms. Delacruz when things skew to the spooky. Rumor has it the Neverland County Sheriff Office may be opening a paranormal investigation unit.
Engaging Affairs. Sarah Jane-Lakewood has announced that her engagement party will be taking place on August 28th. If trends continue it should be quite the romantic affair. As the summer is drawing to a close, it seems almost everyone in Neverland has paired off. First of all, I would like to assure all of those as single as me that those couples can't sing "Single Ladies". Second of all, I would really like to collect a comprehensive list of couple nicknames…Go!
Trending
@RandomActsOrg
#PanletAudition
Kazimir Lee
Silver Petticoat Review
readitforward.com
The Gender Bear
LARP!
Hamlet Sandwich
@TheGeekieAwards