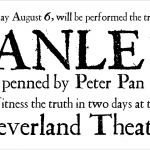 Hearty Party. Everyone had a great time at the Jolly Roger Soda Ship 100 year Anniversary Party. Aimee and Katie served up an endless supply of delicious sweets and treats. Throughout the day patrons answered trivia about the shop's history in between socializing and listening to a set by Fish Girl Pond. Neverlandians in attendance included Wesley Parsons, Juliet Carpenter, G. Harrison Lestrade, Bri Valdivia, Mia Rivers, Nanny Ams, Teresa Delacruz, and many more.
Whiplash Woman! A few days ago, Neverlandians were tearfully bidding goodbye to one of their own. Word on the street was that Mia Rivers would be moving to Denver to work as a paralegal. She was even spotted having an intense conversation at the Jolly Roger with one Eli Traynor. Perhaps seeing how much her would-be suitor cares made her change her mind because just as everyone had gotten used to the idea of her leaving, she changed her mind!
Bromances and Sisterhoods. While G. Harrison Lestrade and Wesley Parsons have moved into a bachelor pad of their very own, the ladies of Neverland could be heard far and wide having another Karaoke Party. Everyone was happy to celebrate Mia's decision to stay in Neverland. Even new-mom Jo Wentworth made an appearance with her little baby Lilian.
Play Time! You've heard the whispers, and we at the Chronicle can assure you that it's true. Peter Pan's Performance Pieces (P4) will be having a live performance this very week. Peter Pan's "Panlet" debuts at the Neverland Theatre this Thursday at 9pm EST, August 6th.  It may even feature some of you, valued readers (and future stars!)  Look below for more info…
CASTING NOTICE
Auditions will be held tomorrow, Wednesday 8/5.  If interested, please contact Peter Pan on Twitter (@PetersPanels) and indicate which character you want to try out for.  No sides at the audition, simply prepare a monologue of your choosing.  Scripts will be distributed after final casting decisions have been made.
CHARACTER BREAKDOWNS
Ghost of King Pancules – The former King of Nevermore, slain by his duplicitous brother, Jas Vader.  The spirit of Pancules appears to his son, Panlet, in hopes that he will be avenged.
Queen Gwendolyn – King Pancules' widow.  Not complicit in her late husband's murder.  In danger of succumbing to her brother-in-law, Jas Vader's, romantic advances.
Jas Vader – Brother to King Pancules, perpetrator of murder most foul.  Usurper of the throne, and a contender for Queen Gwendolyn's heart.
Trending
"Single Ladies" by Beyonce
Once Upon a Time
#facerealityRick
Disney's Descendents
#icantevenseries
Harry Potter's Birthday
Baseball