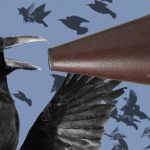 Hello, my dears! Welcome to the first installment of Crow Calls, Neverland's very own gossip and town life column! Just don't call it a rag… I wouldn't wear a rag and I certainly wouldn't write for one! Yes, dears, I have eyes and ears everywhere in this little town of ours, and believe me: There's always something to talk about.
Let's start with me. After all, I am fabulous. I shan't tell you much, my dears, and especially not my name, (otherwise no one would ever tell me their secrets) but what I will tell you is this: Neverland seems like an awfully good place for a bit of crowing, and I know you'll all share some juicy tidbits with dear old CC. I will give you a hint, though, I do spend a lot of my time at Cam's Teapot and in the Jolly Roger Soda Shop. Both are favorite haunts of mine. (And how could a crow resist a real-live crow's nest?)
Speaking of, has anyone been hearing the buzz over at Cam's Teapot? Apparently this charming tea shop turns into a boozy hotspot at night. It's a must-stop for all those Neverlandians in the know and those who want to be. I've been trying to get Mr. John Darling to partake with me, but he seems to be in the wind. Last I heard he had a bleach bottle in one hand and a wet wipe in the other.
And what did I overhear there just the other night? The owner of the tea shop himself invited a certain Miss Ella Jane Evans to dinner at his house… is a romance budding between the packets of Earl Grey and Fairy-Dusted Red Rose? I certainly hope so!
But then there was that weirdo conversation between Emmett and Ella about what Ella should wear on her date with Cam. Why is E.P. giving E.J.E advice on what to wear? And how does he know her wardrobe so intimately? Questions, questions.
Of course, there's quite a bit of intrigue in the Potts family, from what I've heard. Cameron and brother Emmett don't seem to always get along, nor do the brothers with their father. Then of course, there's Emmett's suspiciously quiet fiancé… I'll have to keep my eye on that family. They might prove to be very interesting.
In other news, did anyone go to the Mermaid Lagoon concert the other night? Oh, who am I kidding? Everyone was there! And if you weren't, well you missed the hottest ticket in town. I kicked up my heels to their fabulous set and got soaking wet (why did no one tell me to bring a rainslicker!) but guitarist Ansem Muirin winked and threw me his guitar pick after the show. What a cutie!
I spied with my little eye town charmer, Peter Pan, out with good friends The Darlings and that mysterious international fashionista, Lily Bagha. She does seem to sweep into town ever so dramatically, doesn't she? They certainly looked to be having a good time… A certain W. Darling seemed to be a bit miffed though. But I really can't blame her, the poor dear, having to be the DD for that squirrely group.
That's all for now, dearies! I must gather whispers and put my ear to the ground once more… and to the doorknobs… and to cracks in the walls…
ABOUT THE AUTHOR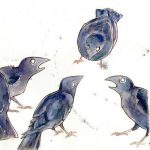 Crow Calls is the Kensington Chronicle's stunningly fabulous Gossip/Town Life Columnist.