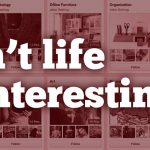 This week, if you fine readers would indulge me, I thought I'd highlight each of the categories on my personal Pinterest page, in an effort to help all of you get to know me a little better.
I am a firm believer that umbrellas need not be saved up for a rainy day!
"A well-tied tie is the first serious step in life." – Oscar Wilde
Your office should be your home away from home: Furnish accordingly.
A well-ordered room begets a well-ordered mind.
I love a home decked out in pure, unadulterated white (although sometimes that and little brothers don't mix).
Clean every day like it's your last.
Even broken records are music to my ears.
To this day, no one holds a candle to the old masters.
If you need more than one panel, you're doing it wrong.
For me, there's naught more calming than a bird on the wing.
You can tell a lot about a man from his penmanship.